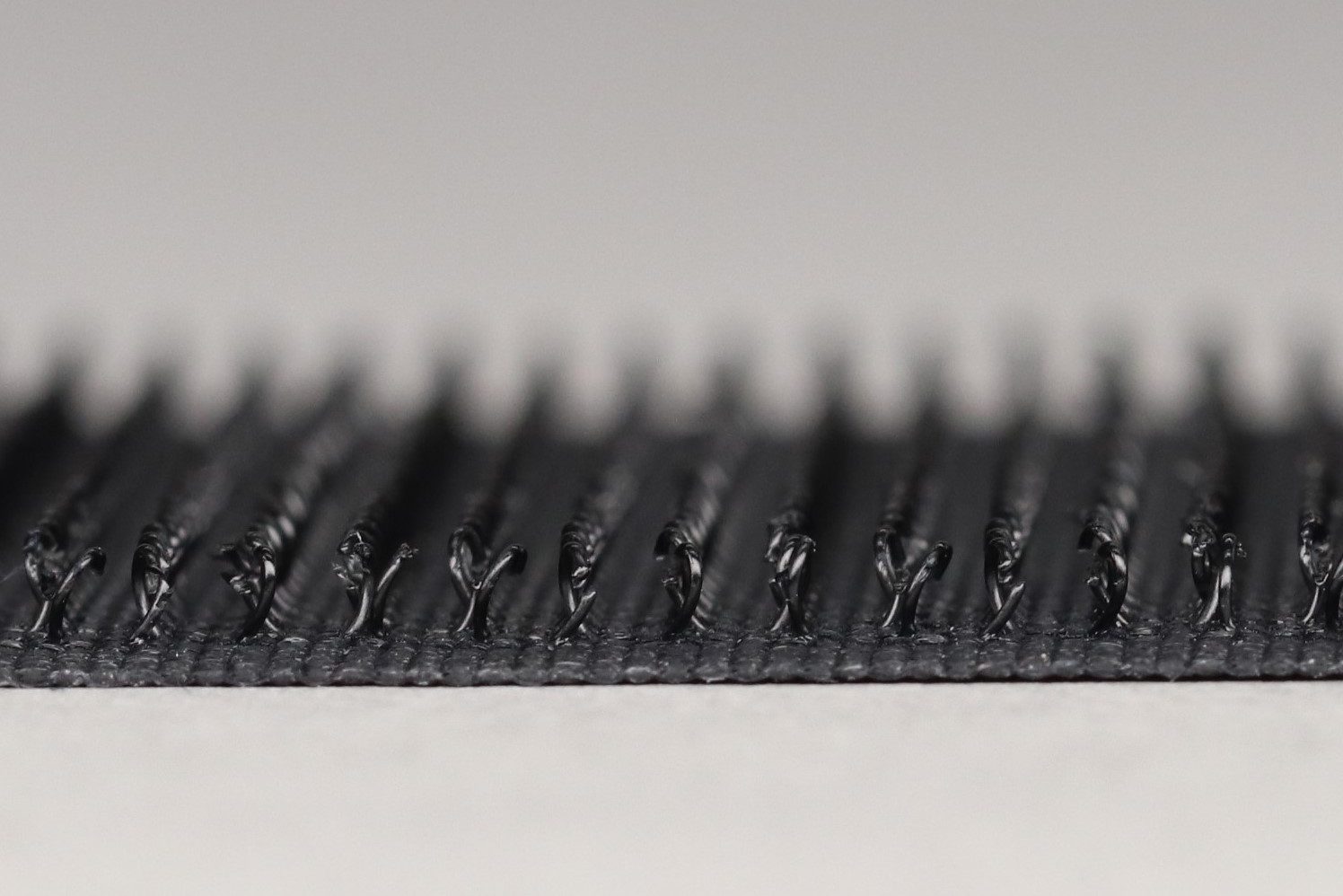 Acrylic Adhesives or Sew On: Which VELCRO® Brand For Me?
The VELCRO® Brand endures as one of our most recognisable household names, where hook and loop fastening products can be used in thousands of different ways, both at home and on an industrial scale. These fasteners come in a wide variety of shapes and designs, where customers can select the colour and strength of VELCRO® to best fit their needs.
We all have VELCRO® inventor George de Mestral to thank for this innovative product, where the idea for a hook and loop design was first conceived of in 1941, and first patented in 1955. De Mestral came up with the idea after struggling to remove bur seeds from the coat of his dog, where these natural plant offshoots are made up of hooks designed to attach to different materials in order to spread plant seeds. This fuelled the idea for a material that could use the same design to create a powerful fastener, where the hook side securely attaches itself to the minuscule loops in a corresponding piece.
Since its conception, the VELCRO® Brand has grown to include a broad range of products designed to solve a wide variety of fixing conundrums. Read on to find out which variation is right for you, whether you're looking for a self adhesive, heavy duty or sew-on fastener.
Adhesive VELCRO® Brand Products
One of the most popular types of VELCRO® Brand fasteners is the adhesive range, where these feature a sticky side that can attach to a range of smooth, indoor surfaces. This allows you to apply pieces to a surface of your choice, and then hang, fix or secure a range of items to the opposing side, creating a sturdy and damage-free fastener.
For optimal success with your application, it is recommended that you clean and dry your surface of choice before fixing an adhesive VELCRO® Brand piece. You can then peel the protective tape off of your faster and press it firmly into position. The adhesive will achieve its maximum strength once 24 hours have passed.
Adhesive products come in a number of different forms, where these include rolls of adhesive tape or individual adhesive coins. Buyers can choose from black or white to find an adhesive to best suit the project at hand, where the hook and loop parts tend to be sold separately. Adhesives are available in 25 metre rolls with a width of between 10 mm and 150 mm. These can be purchased individually or by the case, whilst retail packs can contain smaller rolls that come with both hook and loop pieces.
Adhesive VELCRO® Brand Types
VELCRO® Brand products utilise a range of different materials in order to produce effective adhesive pieces to suit a wide variety of projects. These grades of VELCRO® consist of a PS (Pressure Sensitive) numerical grading which describes the strength of the adhesive product. Popular adhesive variations include:
PS14 Standard – This general purpose adhesive is the most popular in the VELCRO® Brand range, where it can adhere to numerous everyday surfaces such as glass, card and plywood. It is designed to hold approximately 300g of weight per 20 mm square.
PS18 Acrylic – VELCRO® Brand's Acrylic range is manufactured from a high-tack water based material, where it is designed to withstand high temperatures better than standard adhesives. It is the best product to choose for plastic surfaces such as PVC.
PS30 Low Profile – These VELCRO® Brand products are designed to offer a more lightweight and compact adhesive option, where this variety comes in the form of tapes and coins.
PS51 & PS52 Heavy Duty – For weightier tasks, Heavy Duty VELCRO® Brand adhesive products can be depended on. These tapes are designed to hold up to 7 kg per 50 mm x 100 mm strip with proper usage and application.
Non-Adhesive VELCRO® Brand Products
An alternative to adhesive VELCRO® Brand products is the more traditional non-adhesive sew-on variety. These are sewn or glued onto clothing and fabrics to create a secure, multi-purpose fastener. Like the adhesive product range, they come in a variety of roll sizes and colours to suit all kinds of project requirements.
Sew-on VELCRO® should be attached to your fabric of choice with the hook side facing outwards and the plain side against your material. You can hand sew or machine stitch these pieces, using a thread colour that matches the VELCRO® piece. A zigzag or blind hem stitch can provide flexibility for your fastening whilst keeping it securely in place.
Non-Adhesive VELCRO® Brand Types
Non-adhesive or sew-on VELCRO® Brand products come in a variety of forms to suit lots of different project requirements, where these include:
Standard Sew-On – These everyday sew-on VELCRO® Brand rolls are available in both black and white, where buyers can select an individual 25 metre roll or a bulk order sold by the case. Whether you're looking to adjust your clothing or customise your soft furnishings, this is the product for you.
Flame Retardant Sew-On – This sew-on tape variety is designed to self-extinguish once a flame has been removed, contributing to the fire safety of your project. These are especially useful for amending fabrics that will be exposed to flames and heat on a regular basis.
Non-Adhesive Low Profile – Low profile VELCRO® Brand sew-on tape provides a compact option for all your discrete fixing tasks. If you're looking to add an invisible fixture to your fabrics or furnishings, then this option can provide you with the perfect tool to do so.
Top Uses For VELCRO® Brand Products
Both adhesive and sew-on VELCRO® Brand products are incredibly versatile, where they can be used for a wide range of domestic and commercial tasks. Sew-on VELCRO® Brand tape is primarily used for clothing projects, as it can act as an additional fastener to improve the fit of shirts, coats and dresses. It can also be used to secure soft furnishing around the house, such as curtains, rugs and wall hangings.
Adhesive VELCRO® Brand products can be used in a number of different ways. Adhesive tape is most commonly used for damage-free wall hanging, where it creates a sturdy fixture for pictures, paintings and shelving units. It can also be used to secure organisational cabinets and other furniture items to walls and surfaces, to create a tidy or childproof home.
VELCRO® Brand adhesive coins can be used for a range of precision applications, including small hanging and fixing tasks. They can also come in handy for a variety of crafting projects as an alternative to traditional glues and tapes.
MPD Hook & Loop: VELCRO® Brand Sew-On & Adhesive Supplier
At MPD Hook & Loop, we're an official stockist of VELCRO® Brand tapes, coins and straps. Our comprehensive selection consists of both hook and loop parts, which are usually sold separately. We supply our products individually or by the caseload, where you can also request pre-cut and bespoke pieces to suit your specific project requirements. Whether you're looking for a specifically shaped piece or a unique VELCRO® Brand material, we will create the perfect product for you.
From Acrylic Double Sided Tape To VELCRO® Brand Pallet Straps
Our array of hook and loop products includes adhesive VELCRO® Brand tape as well as individual sew-on pieces. We supply rolls, bulk orders and retail packs, so you can find the product in the exact length and width to fulfil your needs.
In addition to this, we offer an array of ONE-WRAP® cable ties, designed to suit a wide variety of organisational and technical tasks. The MPD Hook & Loop selection also includes effective and hard wearing VELCRO® Brand pallet straps, where these can be a vital tool for the transportation of commercial goods and tools.
Beyond our range of popular VELCRO® Brand products, we offer a selection of specialist items for your more obscure project requirements. These include velour pieces, mushroom adhesives and ALFA-LOK rolls.
Take a look at our comprehensive range of self-adhesive or sew-on products to find your perfect VELCRO® Brand fixing tool, or contact us directly today to learn more about how we can assist you with your next project.