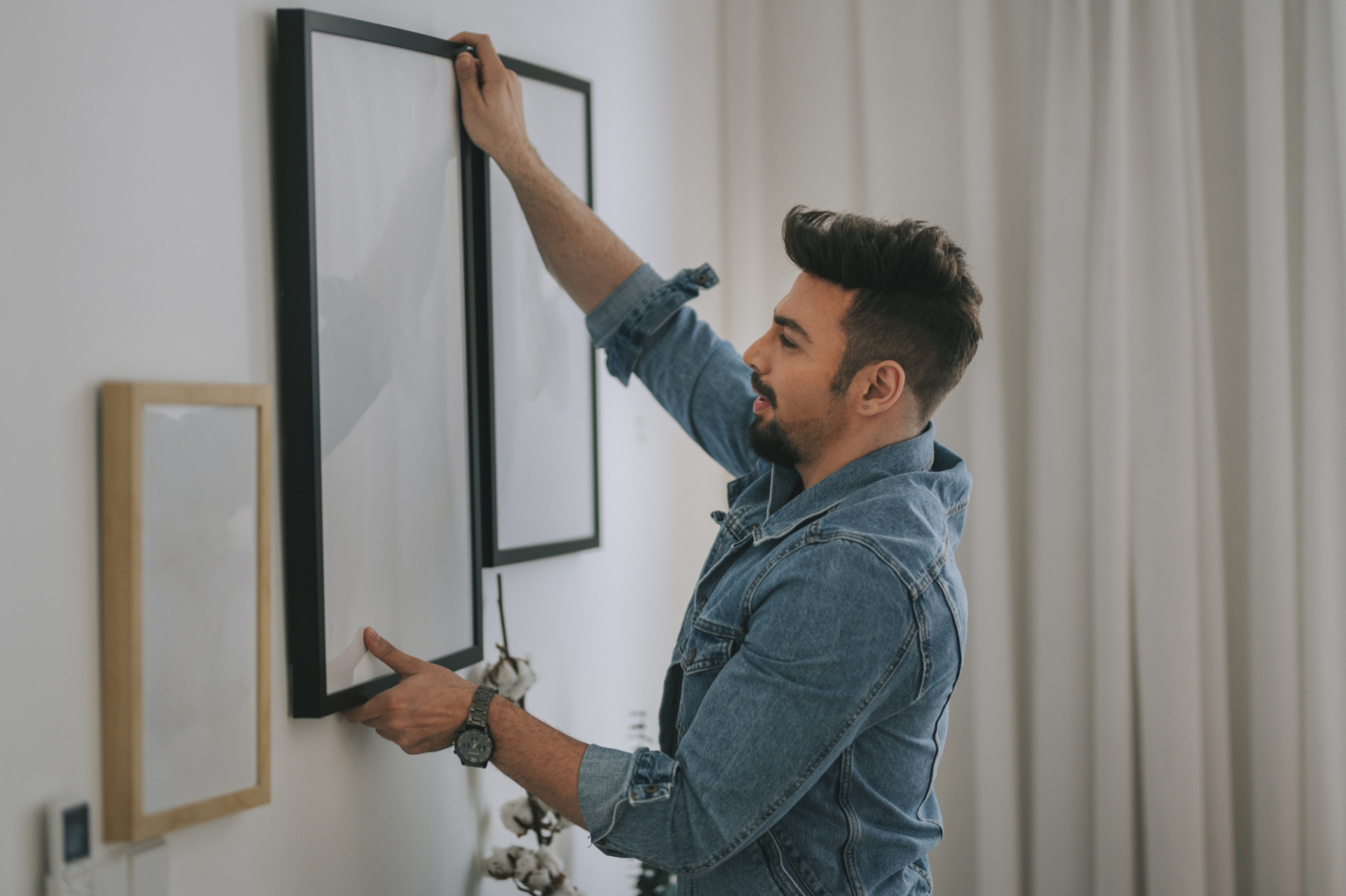 Household Uses For Self Adhesive VELCRO® Brand
Self adhesive VELCRO® Brand tape comes in many forms and can be applied to multiple different applications. Almost anything is possible with VELCRO® Brand! From childproofing to cupboard organisation this blog will share with you a whole range of ideas on how to use self adhesive VELCRO® Brand to improve your home renovations and household organisation.
What exactly is self adhesive VELCRO® Brand tape?
Velcro is a type of material that can be used to hold two sides together. One side has multiple 'hooks' while the other side has hundreds of 'loops' which you will see if you look closely at the material. When the two sides come into contact with each other, the hooks cling onto the loops and make them stick together.The more hooks and loops that are attached to the material, the stronger the hold will be.
What kinds of self adhesive VELCRO® Brand tape are available?
Heavy-Duty VELCRO® Brand
Heavy duty VELCRO® Brand is used just like regular VELCRO® Brand but only for heavier or bigger objects. Heavy duty VELCRO® Brand tape, strips or VELCRO® Brand circles have 50% more holding power than standard strength hook and loop fasteners. This VELCRO® Brand product can hold up to one pound per square inch and up to 10 pounds total.
Double-Sided VELCRO® Brand Tape
Double sided VELCRO® Brand tape does what it says on the tin. Each strip has a hooked side and looped side on both sides and can be cut to the size you need. To use double sided VELCRO® Brand tape, you simply apply each side to a different object and then firmly press together. This will easily hold the two objects together. Also available is heavy duty double sided tape for bulkier objects that need to be put up.
VELCRO® Brand Straps
VELCRO® Brand straps are reusable straps and ties of different sizes and styles depending on your need and use. Most commonly seen and used on shoes but VELCRO® Brand straps have far more potential uses than just being an alternative to shoelaces. VELCRO® Brand straps are a neat and simple way to bundle objects and make a great handle for carrying bulky things like blankets.
What are the advantages of using VELCRO® Brand around the home?
Multifunctionality
VELCRO® Brand can be used just about anywhere in the home! Its uses are wide ranging – from upholstery projects like sealing cushions together to hanging pictures on the wall of rented accommodation, there's so many different ways self adhesive VELCRO® Brand can be used.
Strength
You may not think so, but VELCRO® Brand is a very strong material that can hold a lot of weight. A two inch strip, for example, can hold up to 79 kilograms. The strength is determined by the amount of contact between the hooks and the loops, the amount of force pulling the VELCRO® Brand apart and the amount of surface area in contact with the hooks. This makes it a strong and versatile material that can be used around the home.
Low Maintenance
Another great thing about VELCRO® Brand is that it doesn't require upkeep or maintenance.  There is very little loss of efficiency between each removal of the hooks from the loops. This means you can seal and rip apart the fabric as many times as you like without having to worry that you will have to replace the fasteners. The only thing you have to do is occasionally remove stray threads that may have feathered in the hooks from elsewhere.
Easy to Use
Whether you are out and about or in the comfort of your own home, self adhesive VELCRO® Brand does not require anything but basic motor skills in order to operate. It's kid friendly and a great substitute for children who do not know how to do more complex tasks that require more complex understanding. VELCRO® Brand just simply needs to be pulled open requiring a little force to separate the hooks from the loops.
Low Cost
Even though VELCRO® Brand has so many uses it is a very inexpensive product. It does not cost much to buy and rarely needs to be replaced as it does not deteriorate. Therefore it is a low cost solution for use around your home.
Our Top Uses for Self Adhesive VELCRO® Brand in the Household
As house tape, VELCRO® Brand has endless uses. Once you start using self adhesive VELCRO® Brand around the house, you may find yourself getting carried away when you realise how useful it is! It doesn't leave a residue like some traditional tapes and applying it doesn't require any tools. It's waterproof, so can be used both outside and inside. You don't need to have any house renovation skills to use VELCRO® Brand as it's so easy to use. So here are a few of our top easy to include VELCRO® Brand in your household.
1. Secure Outdoor Furniture, Equipment and Decor
As long as its clean, self adhesive VELCRO® Brand tape will work well outdoors. If dirt gets in the hooks, you can just brush it clean with a brush. Use VELCRO® Brand outdoors to hang lights, decor and signs. You can also protect against strong winds by using VELCRO® Brand tape to secure outdoor cushions onto your garden furniture.
2. Hang Kitchen Tools
Improve the storage space in your kitchen by applying self adhesive VELCRO® Brand to the inside of cabinets and drawers. Attach holders for commonly used items using VELCRO® Brand or simply just attach commonly used items to your cabinet drawers to make them easy to access.
3. Hang Photo Frames
While the traditional hammer and nail can damage your walls, self adhesive VELCRO® Brand means that you can keep walls in good condition if you want to hang a photo or picture on the wall. SImply use heavy duty double sided tape to affix your pictures to the wall in an easy low impact manner. Ideal if you live in rental accommodation or you've just repainted the walls of your home.
4. Organise your Wardrobe
If you're someone who finds themselves constantly scrabbling around on the bottom of the wardrobe floor for fallen scarves and clothes, self adhesive VELCRO® Brand could be the solution you've been waiting for. Use it to easily hang hooks for bags, scarves, hats, jewellery and maximise the storage space in your cupboard.
5. Fasten Cables Together
Fed up of rogue cables? Use self adhesive VELCRO® Brand to wrap up stray cords and cables behind televisions, computers or appliances. It will not only look neat and tidy but will also remove the potential tripping hazard.
6. Organise Your Pantry
Hang food containers in your pantry using self adhesive VELCRO® Brand. Unlike other forms of tape, VELCRO® Brand doesn't leave residue on containers. Instead, it provides an efficient, reusable organisation system. It's simple and can help maximise hygiene and storage space in your kitchen.
7. Fix a Rug in Place
Ever slipped on a rug? Or found that the carpet moves when you're trying to vacuum clean it? Well, use self adhesive VELCRO® Brand to hold it in place and remove those gripes. The hook element of the tape will easily attach to many types of rugs and carpets. But if you find it doesn't you can simply sew it onto the offending rug and hold it in place.
8. Stop Wrapping Paper Unrolling
For most of the year we aren't using wrapping paper. But once they're opened, wrapping paper rolls are difficult to store and prone to tearing. Other types of tape will hold wrapping paper closed but it will tear the paper when you try to open it. On the other hand, strips of self adhesive VELCRO® Brand tape can be used to secure wrapping paper time after time.
9. De-Pill your Jumpers
Old jumpers tend to develop little fuzzy balls of fibre attached to the sweater's surface called pills. These fabric  lumps look unsightly and ruin the aesthetic of your jumper. Fortunately they can easily be removed.  First shave them off with a razor, then scrape the surface with VELCRO® Brand to clean up any remaining loose fibres for a brand new looking jumper.
10. Child proofing
Anyone with children knows how important it is to child proof their home from little, curious fingers. You can use self adhesive VELCRO® Brand to create soft barriers on sharp corners and edges or to fix protective casing on top of dangerous objects. If you have any cupboards that contain dangerous items, such as cleaning products and domestic chemicals, you can use heavy duty double sided tape to secure the doors firmly shut.
So now you know all about the different household uses of self adhesive VELCRO® Brand, what are you waiting for?
MPD Hook & Loop – Self-Adhesive VELCRO® Brand Supplier
As the leading supplier of self adhesive VELCRO® Brand in the UK, MPD Hook & Loop has a vast array of specialist products on offer. Products range from self adhesive VELCRO® Brand and VELCRO® Brand circles to heavy duty double sided tape and sticky pads. However, every customer's need is different and, as a family run business, we hold customer service at our core so we will do our best to find the right product for you.
With our 30 years of experience, the MPD team has unrivalled knowledge of VELCRO® Brand. We only supply the highest quality products at the most competitive prices and stock genuine VELCRO® Brand products, certified and trademarked. So if you're looking to buy a VELCRO® Brand product for your home, call us today on 01373 827 111 or contact us online.