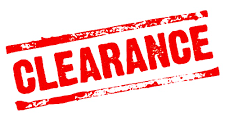 We've added new products and bigger discounts!
We hope everyone had a great Christmas and New Year. We've decided to start the year with a bang, we've added a brand new product tab on our website, dedicated to reductions!
This will be an ever changing category as many of the products listed won't be replaced, a variety of Texacro and ALFATEX® Brand products populate the listing at the moment. However, there may well be some very select VELCRO® Brand pre-cut pieces throughout the year! Keep your eyes peeled for when they go live.
The clearance page will be running alongside our usual monthly special offers which can be found on our home page. The monthly specials will always be the VELCRO® Brand products