Why to use the VELCRO® Brand plant ties and not the ONE-WRAP® in your garden
As the world changes, we have the perfect solution to keeping your plants and trees in shape without using a single use plastic cable tie or wire, VELCRO® Brand garden ties are the perfect solution to cutting down on single use plastics without compromising your plants and trees. Where before using a plastic substitute can damage the plants the VELCRO® Brand garden ties will not, as the tree or plant grows the strap can be adjusted so no branches or stems are crushed.
The difference between the Tree ties / Plant ties and ONE-WRAP® is both the hook and loop material, the loop is much softer on the garden ties, enabling the plants to rub against the strap without damaging the stems, the hook is less aggressive and doesn't get such a strong grip on the loop.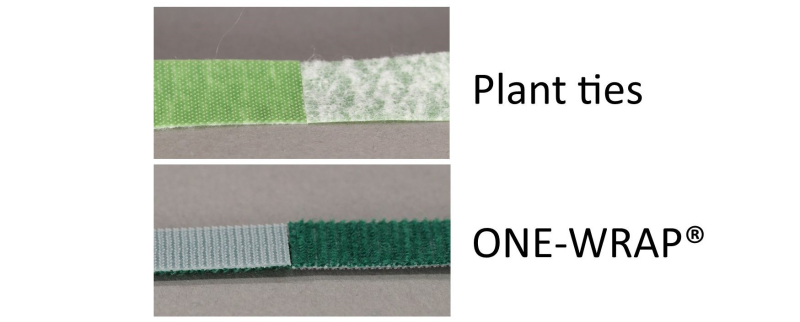 As you can see the differences are quite apparent. The products are applied similarly in that they are wrapped around an object or objects and then overlapped to create the secure fastening, but should be used for vastly different applications. For example, when wrapping and securing a hose pipe the ONE-WRAP® would be our recommendation, the hook and loop grip is superior to the garden ties range.
The garden range is, for the most part, to be used on plants not on hard landscaping or garden tools. If you'd like any further information please get in touch with us.