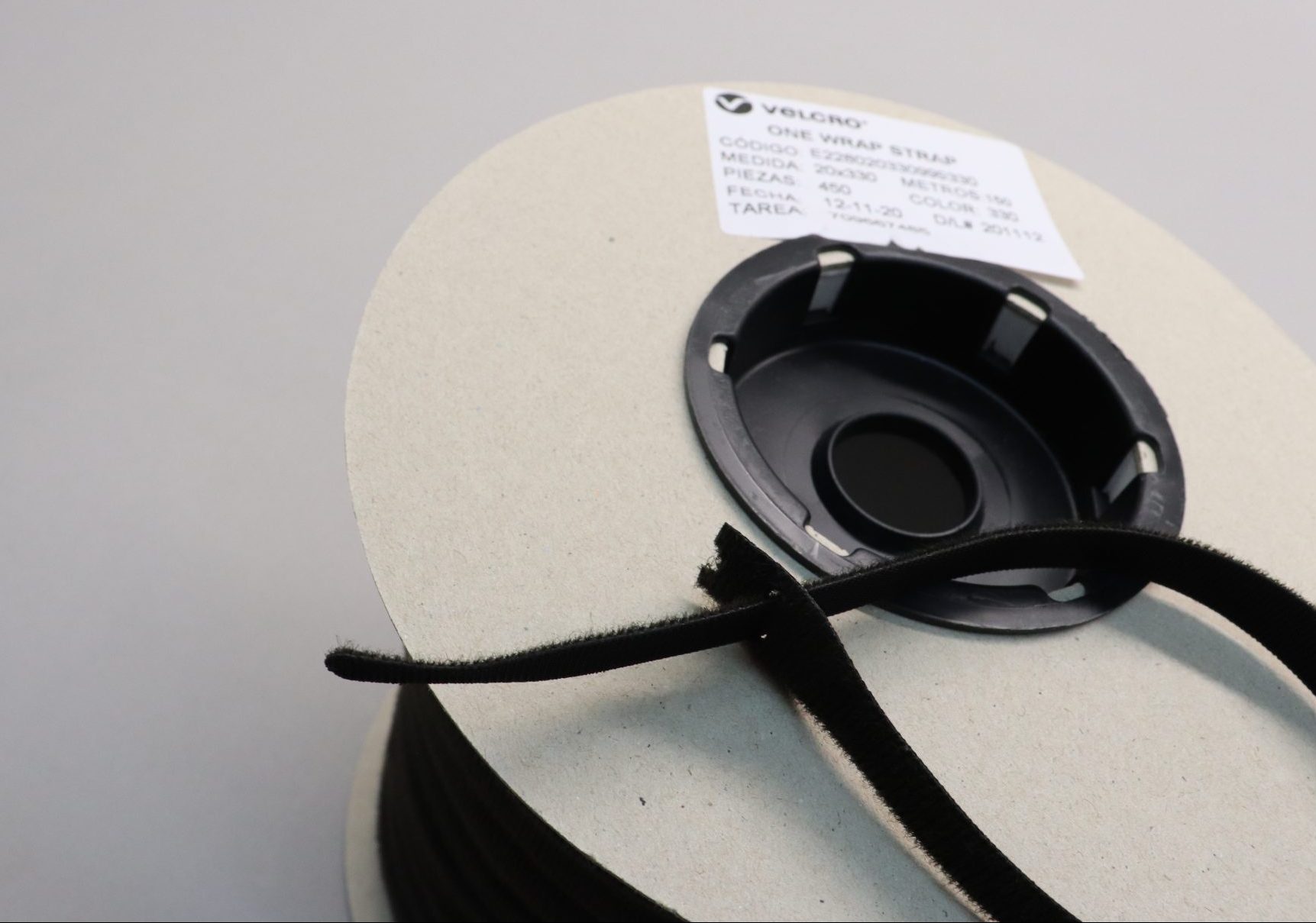 Your A-Z Guide to VELCRO® Brand: Pallet Straps to Cable Ties
We're all looking to make our homes more organised and comfortable, where interior decor and modern technology can both be used to accomplish these goals. But did you know that VELCRO® can also assist you in taking care of your domestic responsibilities? Our comprehensive product range can help you to hang wall art, organise electrical supplies and secure weighty equipment, all with our simple hook and loop mechanism.
These days, VELCRO® is so much more than a simple shoe fastener, where the extensive range of branded products available from MPD Hook & Loop are designed to make your life easier. Read on for an in-depth look at the VELCRO® items that we supply, with an overview of their key benefits, features and uses.
All About VELCRO®
VELCRO® is the brand name for the original hook and loop fastener design. These two parts – the hook and the loop – are designed to connect together to form a strong connection. This makes VELCRO® products incredibly versatile and multi-functional, where each features this hook and loop mechanism.
Originally designed as a practical clothing fastener, VELCRO® can now be used to make a range of household and DIY tasks easier by providing a steadfast and reusable connection. For some of our products, the hook and loop parts are sold separately, so be aware of this before making your final purchase.
Why Choose VELCRO®
Versatility – VELCRO® Brand products are so popular because they can be used for almost anything. Whether you need to organise your cables or hang a painting, we've got the product for you.
Strength – VELCRO®'s innovative hook and loop design means that it can hold impressive weights, providing you with a sturdy fastener that you can rely on.
Reusability – Another great feature of VELCRO® is that these fasteners can typically be reused, resulting in a budget and environmentally friendly option.
Low Maintenance – Once your VELCRO® fastener is secured and its hook and loop parts have connected, you don't need to worry about further upkeep – the grip will endure.
Safe – Our products are much softer and user-friendly than plastic ties or solvent glues, where you can depend on our simple hook and loop design to deliver a safe fastening option.
Washable – A key benefit of VELCRO® Brand products is that they are entirely washable unlike rival glues, meaning they can be used for sewing onto clothing or to adapt homeware that might need a clean.
Easy – There's nothing easier than VELCRO®, where you can choose a product that can be administered quickly and without hassle or mess.
MPD Hook & Loop Product Guide
Below is an in-depth look at our current product range, where we're proud to stock all the VELCRO® products you could possibly need. These include:
Sew-on VELCRO® Brand Tape
Our traditional sew-on VELCRO® tape is designed to fix onto a range of fabrics, where it is made to be sewn rather than stuck. This product is available in three different material types – standard, low profile and flame retardant, where each of these VELCRO®s can suit your individual requirements.
There are numerous ways you can use these sewable pieces, including as a handy closure for your items of clothing. If you want to make workwear more practical or adapt a favourite piece to improve your comfort level, then sew-on VELCRO® can get the job done. The hook and loop pieces join together to make a secure fastening, giving you the confidence to wear your adapted clothes with pride.
In addition to this, you can also use the VELCRO® Brand sew-on range throughout the home as an alternative to zips and buttons, where they could complete a cushion cover or seal up a cloth storage unit. These fasteners are also washable, meaning you can care for these items in the same way as you would any other.
VELCRO® Brand Circles
Also known as adhesive VELCRO® coins or sticky back dots, this handy product range is designed to make home decorating simple.These are also available in low profile, standard and heavy duty varieties, depending on the weight and size of your fixing task. Our coins are available in retail packs and on rolls to suit your individual requirements, where both make for simple storage and easy dispensing.
These coins are straightforward to use, where the adhesive hook part attaches to one surface, and the loop to other, connecting the two pieces in a firm hold. VELCRO® circles or dots can be used for a wide variety of applications, including crafts and collages. The adhesive is designed to stick to a range of surfaces such as plastic, glass and metal, meaning they can be used for lots of decorating jobs around the house as an alternative to nails and glues.
VELCRO® Brand Sticky Back Tape
Our adhesive VELCRO® Brand tape is another versatile and durable product designed to secure heavy weights for long periods of time. For extra weighty tasks, you can also consider our heavy duty VELCRO® Brand tape where this product is designed to hold up to 7kg per 50 mm x 100 mm strip. Like our adhesive coins, this product is available on a roll for easy storage, where you can simply cut the length of tape you need.
Available in standard, heavy duty and flame retardant VELCRO®s, this product is incredibly versatile. It can be used for hanging photo frames and paintings around the house, or to secure rugs and wall hangings.
VELCRO® Brand Cable Ties
Our cable tie range provides a more environmentally friendly and safe alternative to plastic tie products, where the VELCRO® is soft on your hands and entirely reusable. Our range includes VELCRO® Brand ONE-WRAP® Ties, where these can be used for a wide variety of organisational tasks, or in any situation where you would usually use a plastic cable tie. With a hook on one side and a loop on the other, this tie is fully adjustable, and can be used for organising wires, technical equipment or stationery.
We also stock a variety of VELCRO® Brand Garden Range plant ties, where these are perfect for a variety of outdoor tasks. Secure climbing greenery, train plants and keep tools tidy, all without worrying about exposing local wildlife to harmful plastic ties. Our VELCRO® garden ties are perfect to use in conjunction with wooden trellises, stakes or archways, where their fully adjustable design means you can take on projects of any scale.
VELCRO® Brand Logistrap
In addition to the above products, we also supply an exclusive range of VELCRO® Brand LOGISTRAP® Pallet Straps and standard VELCRO® Brand straps. These are more industrially-minded products designed for heavy duty lifting and securing tasks. Like many of our VELCRO® products, these straps are designed to be entirely adjustable and reusable, where the mighty hook and loop mechanism is purpose built to retain a secure connection.
These straps have a wide variety of both domestic and commercial uses. They can be perfect for bundling various items together to make handling easier, or for attaching items to pallets and boxes. They can also be ideal to reinforce containers and pallets for safe transportation. Around the home, these straps come in handy if you're planning a big move or if you're simply looking to declutter.
Bespoke Options
You may find that you have a VELCRO® problem that requires a personalised and bespoke solution. We can supply reinforced VELCRO® Brand pieces as either sew-on or self adhesive shapes. Simply get in touch and we'll be able to let you know if we can design a unique product according to your requirements.
MPD Hook & Loop: Meeting All Your VELCRO® Brand Product Needs
At MPD Hook & Loop, we're an official supplier for a wide range of VELCRO® Brand pieces, where you can rely on us for an authentic and high-quality product every time. Choose from heavy duty, low profile and fire retardant options, where you can also buy in bulk or simply opt for a retail pack, depending on your project needs.
Contact us today to find out more about our comprehensive product range, or to request your very own bespoke VELCRO® piece.